House Calls
By Patty Ramsay
Although house calls are generally a thing of the past, our medical team–consisting of one physician and two emergency room RN's–agreed that, in this case, going to the homes of ill Salvadorans with an indigenous visiting nurse was very important! Seeing where these kind-faced Salvadorans lived not only helped us understanding the patients' physical condition, but also gave us a much deeper sense of compassion. The dirt floors of the one or two-room homes, the bare bulbs providing the only light, the clothes hanging on lines through the middle of the rooms, the bare mattresses on which the sick slept–all these conditions spoke volumes about the day-to-day lives of these people.
As our medical team made rounds in the local village, they assessed the patients' physical conditions and discussed their histories with them. In several cases they were able to give comforting prognoses about their future health and offer good suggestions for improving their symptoms. The team also kept a log of needed medicines, walkers, wheelchairs, ramps, etc. that could perhaps be provided by Third Church or SOI.
Each family visited welcomed our prayers and seemed very grateful for them and for the outreach from the medical team. One young girl with Guillaume-Barre Syndrome–who could no longer walk–beamed with a huge smile when she heard from the doctor that because she got the illness at such a young age, and if she would be vigilant about doing her physical therapy, she would almost certainly recover complete use of her legs. It was as though she finally had hope! When the team prayed with her and her mother, the mother cried with happiness.
The saddest case we saw was a young mother who had been in an automobile accident, causing her to become a paraplegic. Although she has two young sons to care for, she has no way to move around because she has no wheelchair. Umberto said that SOI is aware of the situation and is trying to help, but much more assistance is needed.
Sports Outreach
Meanwhile, Saturday morning was a time of much celebration in the town, centered on a special once-a-year opening soccer ceremony held to highlight the cooperation between the mayor's office and SOI. The town's mayor and head of special projects attended the ceremony, which was organized by SOI. (The Mayor is seated at the center in the top photo at right, wearing a white blouse.)
After the speeches, she and Tom Barila got to do the ceremonial First Penalty Kicks to being the play. [Hers is pictured at right, and seems to be a pretty successful shot, but we have no report on the results of Tom's!] All enjoyed watching those first festivities and then all the games played by the many children's soccer teams that SOI sponsors.
More Local Fare
Lunch at a local favorite restaurant for the Third team and SOI focused on El Salvadoran specialties such as pork fajitas, stuffed peppers, and broiled chicken. The group enjoyed the meal al fresco in a lovely courtyard surrounded by birds of paradise and even a talking parrot!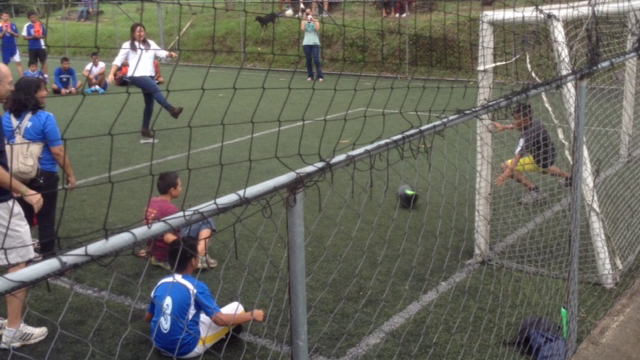 Discipleship Training
In the afternoon, Tom Barila and Ben Behrendt led Discipleship Training for SOI, Third and several local Christian policemen, who were invited by SOI. The class centered on the Discipleship Triangle: Growing Deeper in God's Word, Discovering/Using Spiritual Gifts, and Accountable Relationships. We were each able to assess our own strengths and weaknesses and discuss with our brothers and sisters in Christ (both US and Salvadoran!) about our thoughts on these areas. These conversations were a source of encouragement and inspiration for our spiritual walk!
The work of the day was crowned off by the delivery of large bags of food from SOI which SOI and Third Church delivered to local families in need. Two by two, SOI and Third representatives walked through the neighborhood meeting the families, providing their gifts, and talking and praying with families. During Discipleship Training class we had talked about the importance of loving our neighbor and the Great Commission as part of our spiritual walk. It seemed fitting to end our day serving the Lord in this way!